**UPDATED**
This is Jawn Murray's official apology to the those offended *insert side eye here* Apparently it wasn't his intent, as it was "just a joke gone wrong." Again, why are we always the joke? You can call it what you want, say I'm sensitive, or whatever. Just know that I am far from angry, I'm tired. Tired of disrespect. I will not allow it, period.
What a week huh? We had to fight Kohl's and now this? AOL Black Voices contributor and Tom Joyner Morning Show reporter, Jawn Murray had a few choice words for us natural women; who he feels opposes Tyler Perry's new film, For Colored Girls. I for one didn't know anything about this but you know Twitter keeps the hottest, up to date information going on. Look and see for yourself:
Oh no honey, he had more to say: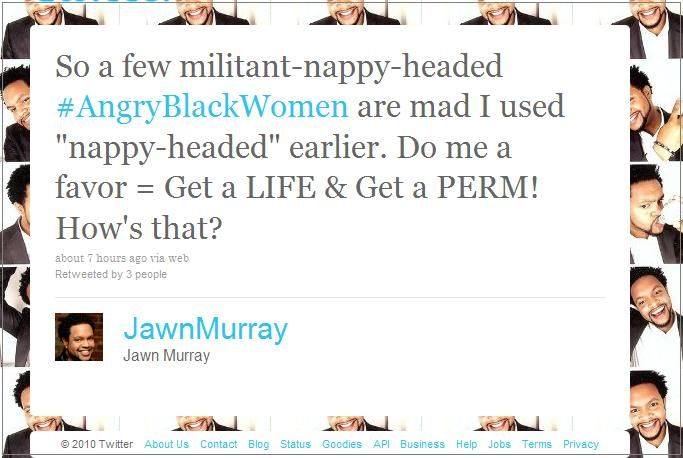 Now, I don't know why he was going in...but the fact that he felt he had to disrespect natural black women as a whole in such a vulgar manner is deplorable. He is a person of the media so this is truly unacceptable! In the wake of a natural hair resurgence among black women; women who choose to wear their hair chemical free. Women who are embracing themselves and their God give beauty. These same women who patronize him...this is unacceptable. I do not condone ignorance against our race, our Queens of color, the women I uplift, and celebrate. The women I try and exalt to feel good about themselves, just to have a black man tear them down is unacceptable. A black man who chooses to wear his hair in a natural, free state is totally again unacceptable.
My sister in natural hair blogging Afrobella wants an apology. I do not wish the same. I simply wish for him to seek knowledge, to understand why black women wear their hair in its natural state. I simply wish for him to sit and talk with the same women he chose to call nappy headed on his Twitter page. I want him to listen to the stories of black women who have been torn down, treated poorly just for being their God given selves.
Jawn Murray you are no different than Don Imus sir. You are no different.
You are a disgrace to black women. The black women who tune into your show and listen to you. The black women who smile broadly when they see you wear the same hairstyle as they wear on a daily basis. But now Mr. Murray these women will only hear, nappy headed, go get a perm, militant, angry black women when they hear your voice. I for one, am appalled, and I don't know why I am surprised.
You are the reason for On the Road to Queendom, thank you for giving me that reason.Oh, I am only a Angry Black Woman when I am faced with ignorance like this, I haven't been this mad since Imus.
Queens please
sign
the petition and forward this information along!
Stay Blessed & Happy Locing!
Writing Addict