Queens,
Anyone who knows me personally knows how much I love to shop. I mean its in my blood, my mother is a master shopper, and my grandmother is too. So I really have no other choice do I? With that being said, I took my happy tail right on over to Sephora's on my lunch break today! It was a good time. It was either Sephora or study my finance, you already know what I chose. Plus I had to do a little shopping for Queen lcrthompson, she is this weeks' giveaway winner of the OPI nailpolish. I had to pick up the
Dark Room
color and personally try it on. I am happy to report our Queen will be looking too fierce when she rocks that nail color!
While there I was helped by this cute lil mamacita by the name of Jessica. She was the most petite, cute, and all around plesant salesperson I have encountered in a while. That and she sported some fly mascara. Honey, I had to take a break from what I was doing to ask her what type of mascara she was rocking. I told her I didn't believe that she wasn't wearing false lashes, then she went right over picked up a little tube of
Fiberwig
, a mascara out of Japan. She got on me because she stated we as women need to put on the eyelash conditioner before applying mascara to keep our lashes soft, supple, moisturized, and glam. Then wallah! She applied that stuff and chile let me just say I walked out swaying and sashaying...my lashes were fierce! Take a look!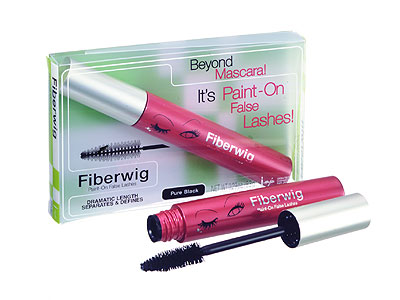 I had to get that too! I mean if I can have the look of false lashes that will easily wash off with eye makeup remover then I'm all for it. Seriously little Jessica's makeup was on point! I invited her over to the Queendom to have a look around she promised she would. So if you stop in Jessica, hi, and thank you for all of your help girl you are truly fabulous!
Smooches!
Stay Blessed & Happy Locing!