The above loc'd beauty goes by the name of ZAYUNU, which also happens to be the name of her jewelry company. ZAYUNU (in old ancient Sumerian) means Adornment, to adorn or to beautify and is the place for that refreshingly different approach to Jewelry. A Zayunu piece is bold, beautiful, sassy and proud, like her owner. Clients who buy Zayunu by Design attract interest from others and find that they are regularly approached and asked about the jewelry they are wearing. Zayunu by Design pieces are highly desirable, original and uniquely created to enhance the wearer's natural beauty.
Thumb ring
About the designer
I have been involved in the Jewellery (jewelry) field for over 20 years now. Starting at the age of 16 years old I left school with the great desire to become a Jewellery Designer.
In 1986, I completed a 2-year Crafts Course in Jewellery foundation Skills at what was then Sir John Cass, faculty of Art, City of London Polytechnic (now the London Guildhall University). Learning the foundation skills of:
Diamond Mounting
Gem setting
'Lost wax' casting
Jewellery Design
Silversmithing
Hand engraving
Acid Etching
After leaving Sir John Cass, I worked in London's Jewellery centre, Hatton Gardens for two years working with various jewellery companies, exporters and manufacturers.
After the birth of my second son I decide to concentrate more on my jewellery designs. I experimented with bead weaving techniques learnt from a book I had earlier purchased. Along with the techniques I had learned on the foundation course all those years ago and a lot of luck and faith, Zayunu by Design was born.
A chance meeting with the Fashion Editor of a well known Black UK magazine at London Spitalfields market, paved the way for me to feature my designs at the Afro hair and Beauty show at Alexandra Palace and my work was an instant hit. After which there would be promotional photography work and shows with:
Dark and Lovely
Sleek
Mahogany Bride Magazine, UK
Black Beauty & Hair magazine.
Savoy Bridal show
Kew Garden festival
Hilly fields festival
Lewisham peoples day
Thames Festival.
Later on it would be the at the In Celebration of my Sisters at the Royal Festival Hall, London and Adornment, Kensington ( the largest natural hair conference in Europe), where I would first feature my Dreadlock accessories and the name Zayunu by Design really starts to become more established.
Zayunu by Design Jewellery is currently sold in over 6 countries.
This includes:
UK, USA, France, The Netherlands, Australia and The Caribbean.
I have exhibited and worked with various organisations such as:
The Princes Trust
Miss Ghana UK
Miss Big and Beautiful, UK
East London small business Centre
Sonar
Ausar Auset Society
Well Made
Moordesign
The Best of Nigeria Expo 05
As well as featured in Timeout magazine, Continental Bride Magazine, Europe, Pride magazine, UK magazine and the BBC.
I am a graduate scholar of the NES - New entrepreneurs scholarship program, London UK and I am a member of my local Chambers of Commerce.
I work from home and I am also a mother to 3 boys
ABOUT THE CREATIONS
Every piece is handcrafted, made using silver/gold plated & enamelled copper. Swarovski crystal, ceramic and semi-precious beads. Various types of cowry shells and freshwater pearls, delicas and seed beads are also used to great effect.
Zayunu by Design Jewellery is created using various wire wrapping, traditional jewellery and Bead weaving techniques which adds texture and character to each piece, resulting in a range of jewellery which is quite distinct and original.
MISSION STATEMENT:
The aims and purpose of Zayunu by Design is to adorn and beautify others by way of my creative expressions through the medium of bead, shell, metal, semi precious stones, crystal and colour.
To enhance and compliment the natural inherent beauty within my clients with a refreshingly different approach to jewellery.
To provide bold, original and highly desired accessories which continually seeks to challenge the usual perceptions of wearable art.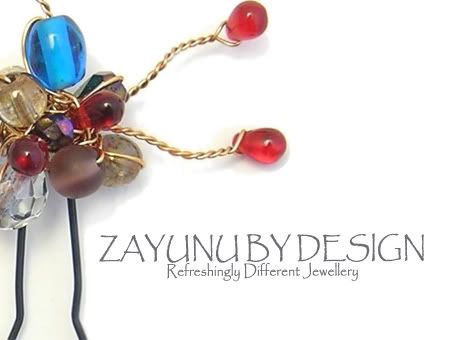 ZayunubyDesign.com
Do I feel a giveaway coming on? :)
Stay Blessed & Happy Locing!