Uggh...the horror of it all! I hate retwisting my hair, I swear I do. Well I have to this weekend, I have a work related event to go to, and I don't want to show up looking like Bob Marley. Don't get me wrong, I don't mind a little thickness at the root; but I don't like the way that I look personally. I just look a little neater with my roots done okay?
With that being said, I tried to use that Lock, twists...this stuff right here...
*Sucking teeth* Umm, this stuff does nothing for my hair seriously it doesn't. I mean within like 1 hour after taking the time to twist it with this stuff my twists were swelling! LOL
So, I had to go back to old faithful, Carol's Dauther Loc Butter. Not only is there no Carols Daughter store around here, but I have to drive downtown which is like 20 mins away just to get a jar. Let me vent that the daggone jar is too small as well! Come on Carol. You mean to tell me that you don't have a bigger jar to put this stuff into?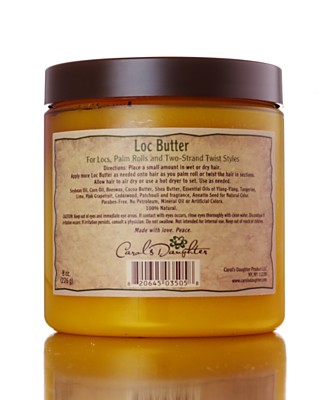 Some people don't like the loc butter, they say its too greasy, blah blah. But for me its what I have used since like 2004. It gives my hair a great sheen, smell, and hold. So, I am off to do my hair tonight. I know its gonna take me 2 hours, but hell its worth it. After I'm done, I'll put up a post with pics.
The time should go fast, I'll be twisting with some Michael Jackson music in the background :)