Now anyone who rocks locs knows that they can tend to be a tad bit dry. Therefore it is important to put a little oil on your locs for sheen, and so that it can appear healthy. Natural oil, not oil sheen. Why? Because oil sheen can be a bit too heavy, and it does not absorb into your skin or loc shaft well. It also can through your scalps balance off which will make it produce too much oil, and dandruff. So I have a recommendation for you precious poo's:
My absoulte fav is: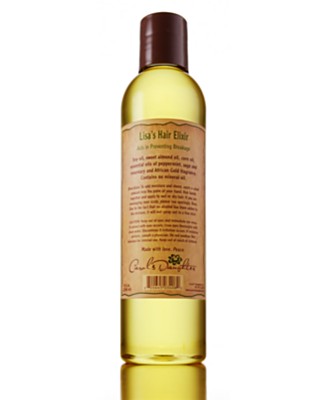 Lisa's Hair Elixir by Carol's Daughter, but of course. Sorry I have tried all types of other hair oils in the beauty supply store but for some reason. My scalp just becomes irritated, itchy, and smelly. But this oil is lightweight, has a pleasant smell, absorbs quickly and makes my locs appear very healthy.
It has sage and rosemary essential oils, it conditions the hair and combats dry scalp while peppermint gives a refreshing tingle.
Benefits:

* Essential oils of rosemary and peppermint promote circulation, strength and contains scalp-protecting antioxidants.
* Performs double duty as a daily shine solution and a weekly hot oil treatment.
You can purchase an 8 oz bottle for $19. Seem expensive? Well it might be, but it does last a long time...trust me when I say a little goes a long way.
I know I recommend a lot of Carol's Daughter, but its because she has great products which are natural and reasonably priced! Trust me I spend my own hard earned cash with them, and have never been given any darn thing (although I wish they would hook a sistah up!). So you can trust my reviews...I haven't been bought off...even if I did get products to review it wouldn't guarantee that company a positive review. I got to keep it real around here for myself and my readers.